AZIMOM Solar Stair Lights Outdoor LED Step Lights 8-Pack Warm White & Color Glow for Home Yard, Garden
TWO OPTIONAL LIGHTING MODES: 2021 Latest outdoor solar stair lights have Warm White/7 Changing Color lighting modes. Warm white mode is suitable for daily lighting and decoration. Color changing mode is especially available for festival decoration.

PERFECT OUTDOOR DECOR: The outdoor LED solar step solar lights create a nice ambience for your backyard, patio, stair, deck, fence, garden, porch, stairs, step, railing. The great holiday gifts for friends and family.

SOLAR POWERED WIRELESS: The railing solar stair lights' solar panel can only takes about 4-5 hours to fully charge in sunny day and it can work about 10-12 hours at night. Don't worry about turning lights on and off. It will turn on automatically at dusk, and off at dawn.

EASY TO INSTALLATION: The solar step lights designed with two screws hole to be fixed, product package includes the screws, mounts on any edge, or just fix it on the any flat surface another side, there are no confusing wires, simple installation, done in less than a minute.

HIGH CONVERSION RATE: The solar deck step lights has Larger solar panel, which is made of polysilicon silicon, it charges much faster than other light in the same sun condition.

LARGER SOLAR PANEL: The outdoor solar stair lights compared with other traditional solar deck light, this led decking lights have upgraded wider solar panel and 10 lumens per light will much brighter.

2 YEARS QUALITY WARRANTY: 24-month warranty and 30 days money-back. If you are not satisfied with the purchased outdoor waterproof solar step lights, please contact us and we will solve them within 48 hours.

PACKING INCLUDES: 8 outdoor solar step lights + 16 Anchors + 16 Screws + User Menu. With 1.2V/600mAh NI-CD battery built in.
AZIMOM Solar Stair Lights Outdoor LED Step Lights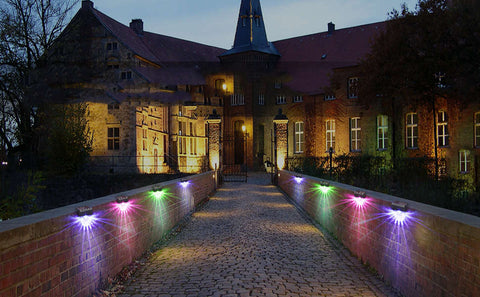 Solar Step Lights for Patio, Stairs,Yard, Garden Pathway, Step and Fences, 10 Lumens, Warm White/Color Changing Lighting
Are you worried about falling in the dark?
Are you willing to create a beautiful atmosphere for your yard at night?
Solar stair lights are becoming a fast favorite for homeowners because they are charged by free solar energy directly, the solar stair lights are also energy-efficient. There are many different types of solar fence lights outdoor to choose when you want to decorating your garden. There are many different types of solar deck stair lights to choose from when you want to entertain or host guests outdoors. But why choose AZIMOM solar fence lights?
1. Two Lighting Modes
The warm white is suitable for daily decoration, and the other one is especially fit for festival decor. Two adornment modes choice, avoid your adornment worry.
Our solar stair light perfects for stairs, pathway, deck, garden, backyard and fence.
2. Larger Solar Panel
No power needed, just sunlight. The solar post lights save energy and money, larger solar panel makes it charge faster.
3. Warm White Light Mode
The solar deck step light provides just the right amount of light so that it would not disturb the neighbors.
4. Color Changing Mode
Set it on switching mode, the solar wall lights will rotate between 7 different kinds of color.
Great for outdoor decoration, give your home a very cozy atmosphere.
5. Easy to install
Comes with two mounting options, either place the deck light vertically or lay down flat. Use the screws included with the lights.(Packing includes: 8 Solar step lights + 16 Anchors + 16 Screws

 Outdoor Solar Stair Lights - Warm White and 7 Color Changing Lighting
High Conversion Rate, Auto on off Durable Waterproof Solar Deck Lights 
10-12H Lighting Time

The outdoor solar stair lights will automatically turn on at night and turn off automatically during the day. It can usually light up for 10-12 hours, depending on the intensity of the sun.

100% Solar-Powered

Put the solar deck lights on somewhere without shade. They automatically turn on at dusk and remain illuminated until dawn.

Weatherproof Design

IP55 waterproof material, the solar fence post lights are suitable for outdoor. It can be used safely even in rainy days, snowy days or frost days without any impact on its work.
Large Solar Panel/3 Types of Control/Two Installation Mode Solar Stair Lights
Wide Application

Perfect Outdoor Decoration-This set of outdoor solar step lights is ideal for decorating outdoor staircases, fences, garden, docks, yard, backyard, stair, decks, mailboxes and fence post. A great choice for Christmas gifts for family and friends.

3 Types of Control Switches

The solar stair lights with 3 types of Control Switches. You can turn the OFF/WHITE/COLOR switch to the WHITE position (white lighting mode) or the COLOR position (7 changing color lighting mode)

Easy Installation

Step 1: Choose the color you like. Turn the switch from "OFF" to "WHITE" or "COLOR".

Step 2:Choose a flat surface, mark 2 screws positions from solar panel holes,drill 2 holes of 6MM in diameter for pre installation.

Step 3: Choose the install mode you like, insert 2 expansion screws into the holes ,then insert 2 screws to fix the lamp body.
8 Pack Solar Deck Lights Outdoor Waterproof LED
Specifications:
Light Brightness: 10 lumens
Charging time: 4-5 hours
Lighting Time: 10-12 hours
Material: ABS
LED Lighting Color: Warm white /Color changing
Waterproof: IP55
Battery: 1.2V/600mAh NI-CD battery
Each Light Dimension: 3.2 x3.5 x 2.3 inches
Package list
8* Solar deck stair lights
16* Anchors
16* Screws
1* User manual
Notes:
1. Please make the solar panel be faced with the sunlight directly without any shelter or shadow.
2. Don't install under the street light. It will not work when the street light is on.
3. On the first time use, make sure to expose the solar wall light to the Sunny day for 4-5 hours to fully charging the battery enough.
4. Keep the solar panel clean.
Perfect Outdoor Decor LED Solar Deck Stair Lights